PsychoToddler hit the nail on the head with
this great post
. You'd have to had experienced this to understand. I especially loved his description of the evolution of a smile:
I don't know what it is with kids. But they don't know how to smile. I know that when they are born, you can get them to smile by tickling them or surprising them or giving them something that produces gas. But at some point, when they get to preschool maybe, they forget how to smile. They confuse smiling with dentistry. It's like they try to show all their teeth. That's a smile. It's not attractive. It takes a kid who looks reasonably good and turns him or her into some kind of insane fiendish demon.

And I guess, after they figure out that this is not the best way to look good in a picture, then comes the grinning stage. Whereby they clamp down on their lips to avoid exposing any teeth at all. To me, this looks equally ridiculous.

At this point, the only way to get a decent picture is to surprise them, like in this example where I didn't tell my daughter I was taking a picture until she looked up. And then I made her say something stupid, like Chewbroccoli.

Or you can try to capture them in a natural state, like when they're doing something they really enjoy.

The thing that absolutely doesn't work is to try to tell them how to smile. Because if you do that, in addition to a weird mouth contortion, you also get furrowed
eyebrows.

He must know my Mordechai! It's just too weird otherwise. Ada's still young enough to capture smiling au naturel, that is, if she doesn't cry or
crawl
scoot away. Sari has just started to experiment with her smile but she's still capable of being surprised into a smile by some stupid joke. I present to you the product of a most harrowing experience: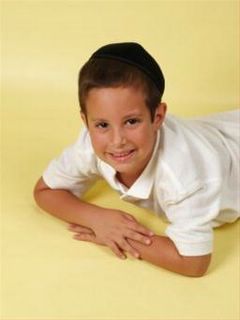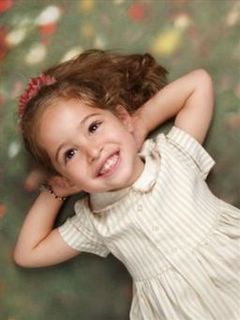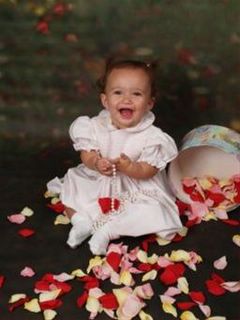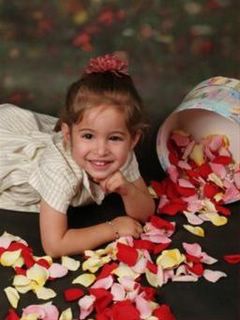 Ada was fast losing patience for the whole portrait process and was intent on scooting away,
off
that curtain. In desperation, I said "Can we confine her in something thereby forcing her participation?" Ergo, the baby in a bucket. The expression on her face is actually the little whimper that precedes a full-blown fit.